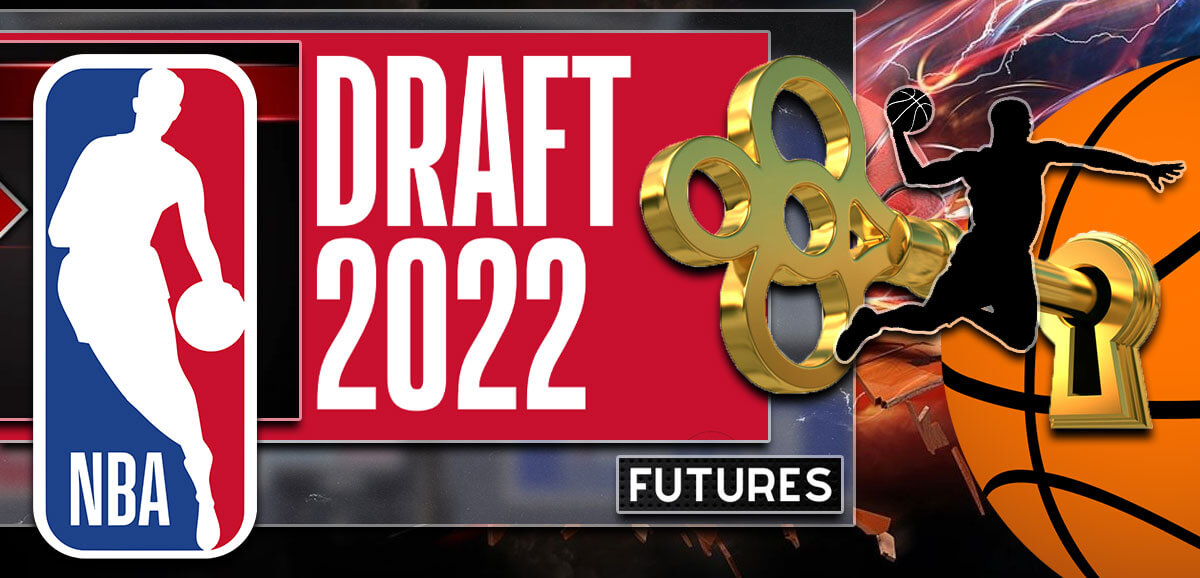 Betting on the 1st pick market of the 2022 NBA Draft has surpassed the same betting market for the 2022 NFL Draft.
Jabari Smith is the odds on favorite to be the top pick of the 2022 NBA Draft at -160 odds.
Smith has 55% of the betting handle and 33% of the bet count in the 1st pick market.
There's no question that the NFL is the most popular sport for wagers but as far as this year's player draft is concerned, the 2022 NBA Draft Market is beating its NFL counterpart.
According to a release from Caesars Sportsbook, the betting market for the 1st pick of the 2022 NBA Draft has surpassed the same for the 2022 NFL Draft. Although the online betting site did not expound on figures, Caesars went on to say that there have been twice as money wagered on Jabari Smith going 1st overall in next week's draft than there were dollars bet on Travon Walker to be picked 1st overall in last April's 2022 NFL Draft.
A week before the NBA draft, more money has been bet on the odds to be the No. 1 pick than was bet on the odds to be the No. 1 pick in the NFL draft @CaesarsSports. [h/t @TheMaxMeyer]

Jabari Smith Jr. is a -130 favorite to go No. 1, followed by Chet Holmgren at +175.

— David Payne Purdum (@DavidPurdum) June 16, 2022
Caesars Sportsbook senior trading manager Eric Fenstermaker described the amount of money wagered for the 1st Pick market of the 2022 NBA Draft as "incredible" considering there is still one full week of betting ahead. Added Festermaker:
"First pick is always one of, if not the most popular market each draft. There are legitimately three guys who can go one, even though one is a bit of a long shot. In the NFL, it was [Aidan] Hutchinson until news leaked that it wasn't. Both [Hutchinson and Travon Walker] were odds-on favorites the whole time and were pretty big minuses. That doesn't entice as much betting. Here you got two guys who are pretty close to pick'em."
Who Ya Got?
Jabari was -450 to go 1st overall just a couple weeks ago 😲

Who you got going first?

LIKE: Jabari Smith Jr.
RT: Chet Holmgren pic.twitter.com/sHhFicsg8j

— Caesars Sportsbook (@CaesarsSports) June 15, 2022
Smith opened as the +110 odds on favorite to be the first pick of the 2022 NBA Draft at the best NBA betting sites. Holmgren debuted at +180 while Paolo Banchero of Duke hit the opening boards at +200. After the Orlando Magic won the NBA Draft Lottery, Smith's odds went minus money at -110 with Holmgren fading a bit to +175. Smith went as short as -450 just a couple of weeks ago with Holmgren falling to as much as +350. But with the money starting to come in, the odds are tight again, almost a pick'em.
Last January 15th, Smith was down to -120 with Holmgren also hitting minus money at -110. Those odds have since moved and Smith is now the -160 at Caesars while Holmgren is back at +160. At Bet 365 USA, it's -160 for Smith and +125 for Holmgren. Unibet has Smith at -155 odds while Holmgren is listed at +105.
PointsBet USA currently has it much closer with Smith at -140 and Holmgren at +105. Meanwhile, BetMGM and Borgata Online both have it a pick'em with Smith at -105 and Holmgren at +155. The shortest odds for Smith is at -180 via the BetOnline App with Holmgren listed at +120 there.
1st Overall Pick Betting
1st Overall Pick #NBADraft betting at @BetMGM

Favorites
• Jabari Smith Jr. -105
• Chet Holmgren +145
• Paolo Banchero +350

Highest Ticket%
• Smith Jr. 23%
• Banchero 16%
• Holmgren 10%

Highest Handle%
• Jaden Ivey 43%
• Smith Jr. 24%
• Shaedon Sharpe 21%

— John Ewing 🦁 (@johnewing) May 17, 2022
Last month, BetMGM revealed that Jaden Ivey was the most popular bet to be the first pick of the 2022 NBA Draft. According to its data, Ivey at +3500 odds had 43% of the total betting handle with Smith coming in second at 24% of the total dollars wagered. Shaedon Sharpe came in third with 22% of the money.
Smith however was the popular wager as far as bet count was concerned with 23%. Banchero came in second with 16% while Holmgren came in third with 10% of the total betting slips issued at BetMGM. The said online sportsbook has yet to reveal its updated numbers this month.
Caesars meanwhile says that as of this week, 55% of the dollars and 33% of the tickets for the 1st pick betting market at its sportsbook has been placed on Smith. Holmgren is second in both categories with 22% of the betting slips and 32% of the handle. Banchero is third with 13% and 11%.