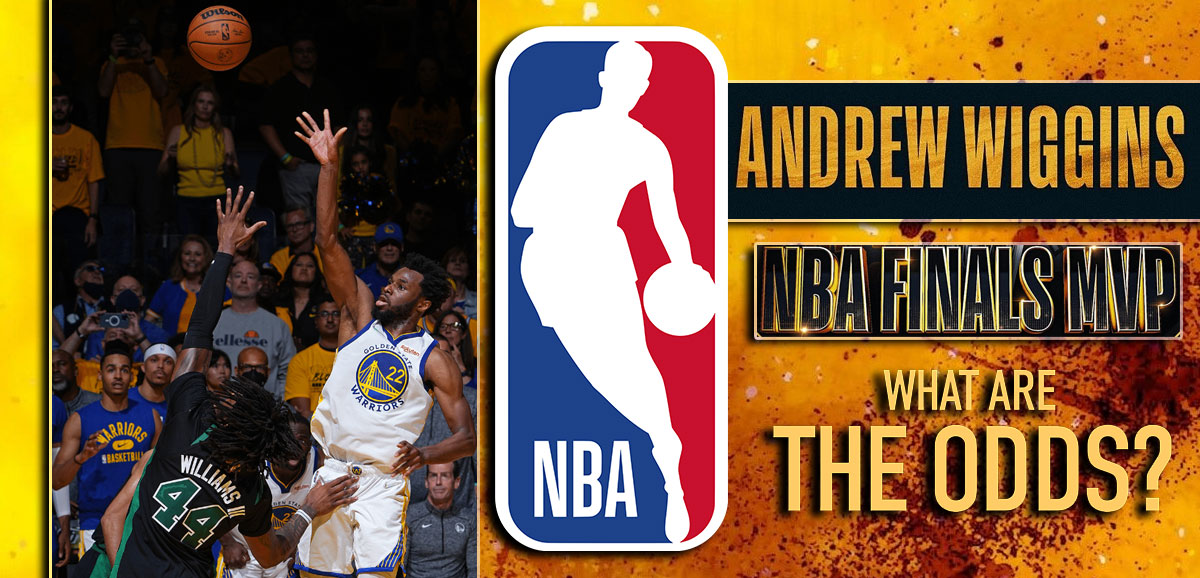 The Golden State Warriors defeated the Boston Celtics 104-94 in Game 5 of the 2022 NBA Finals.
Andrew Wiggins led the Dubs with 26 points and 13 rebounds on a night when Steph Curry struggled.
Wiggins moved from +10000 to win Finals MVP before Game 4 to +2000 after Game 5.
In 1986, Mitchell Wiggins came up big for the Houston Rockets in their championship series against the Boston Celtics. 36 years later, Andrew Wiggins came up big too, in a Finals Game 5, also against the Boston Celtics.
Known for most of his career as a player who never lived up to his billing after being picked 1st overall in the 2014 NBA Draft, Wiggins finally found his home when the Golden State Warriors traded for him in 2020.
This season, Wiggins was named to the Western Conference All-Star team, and even then, many questioned his selection. But after his performance in Game 5 of the 2022 NBA Finals, nobody will second-guess the second-generation basketball star.
Maple Jordan Showed up in Game 5
Maple Jordan showed up for the Warriors tonight! 🍁🔥 pic.twitter.com/F5XsEN8Ooq

— theScore (@theScore) June 14, 2022
With Finals MVP betting favorite Stephen Curry struggling against the Boston defense, Wiggins took up the cudgels and led Golden State to a 104-94 win in Game 5 of the 2022 NBA Finals. Wiggins led the Dubs in scoring with 26 points on 12-23 shooting while also grabbing 13 rebounds, issuing two assists, with two steals and two blocked shots.
Curry finished the game with only 16 points on 32% shooting including 0-9 from three-point distance. However, with Wiggins going over his 16.5 points and 7.5 rebounds prop bets on Monday night, the Warriors survived the Celtics' best 3rd quarter performance of the series and pulled away from Boston in the final quarter.
Two games ago, Boston looked like it was ready to put the nail in the coffin on the Dubs as they took a 2-1 series lead. The Celtics moved ahead as the -225 betting favorites at the top NBA sportsbooks before Game 4. But with Wiggins scoring a total of 41 points and grabbing a total of 29 rebounds in Games 4 and 5 combined, the Warriors are now the -350 betting favorite to win their fourth NBA title in eight years, and the first for Wiggins.
Updated Odds to Win NBA Finals MVP
Updated Finals MVP odds, fresh off the presses: pic.twitter.com/oKKTBbofI5

— BetMGM 🦁 (@BetMGM) June 14, 2022
Despite his poor Game 5 performance, Steph Curry is still averaging 30.6 points, 5.6 rebounds, and 4.6 assists per game in the 2022 NBA Finals. Because of that, he is still the heavy -350 betting favorite to win the Finals MVP award with Boston's Jayson Tatum as the second favorite at +325 odds. The third name on the odds board? Andrew Wiggins at +2000.
There's a good chance that Steph Curry wins his first Finals MVP award after the series because except for Game 5, he has been lights out for Golden State. Or there's a small chance that Jayson Tatum wins it if the Celtics somehow emerge victorious the final two games of the Finals. However, Andrew Wiggins moving up to third from +10000 odds after Game 3 could be a bigger story.
Even if Wiggins delivers a 50-point game to close out the Celtics on Thursday, it's likely that Steph Curry will win the 2022 NBA Finals MVP award. But in every championship series, there is always the X-Factor on the winning team and without question in this one, it's Andrew Wiggins for the Golden State Warriors. Finals MVP or not, give this man his flowers.