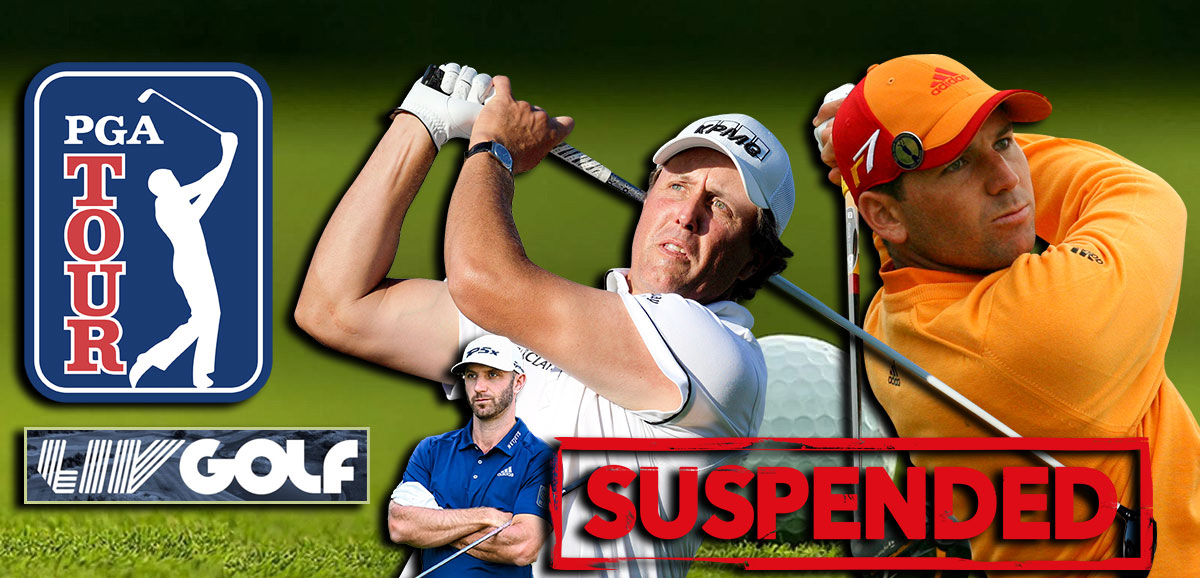 Golfing names will provide competition as LIV opens in London this weekend
Four USA and four British golfers are among suspensions by PGA Tour
Former PGA Tour winner Dustin Johnson is cast as opening favorite
Thursday morning was a D-Day for 17 members of the PGA Tour as the organization suspended all players taking part in the upcoming LIV Golf event.
The specter of the LIV has become a noted rival for the PGA Tour as it hosts purses placated at $25 million which also brings in $250 million in a combined measure of total prize money. Most PGA golf tournaments are comprised of four days of competition, but the LIV will feature three days of competition as well as a difference in the grandeur of the prize money. According to Saudi Arabia's PIF, the beginning seven of the golf tournaments will be worth $25 million each.
Fans and players will see $20 million fall between the individuals and then another $5 million will be divided among whomever the top three teams are at the beginning of each week that there is a LIV event.
USA's Johnson Slated as Inaugural LIV Pick
USA golfer Dustin Johnson (+500) has been defined as the opening favorite of this weekend's inaugural LIV event which starts today in London and is played through Saturday.
South African Louis Oosthuizen (+1000) is tied with the second-best odds with USA's Talor Gooch. Sergio Garcia (+1200) of Spain and USA golfer Kevin Na (+1400) set the odds for this weekend's action.
Johnson and Phil Mickelson were both suspended by the PGA Tour on Thursday morning.
Please Note:
Mickelson is sporting (+2000) odds at the
online sportsbooks
as the winner of the golf tournament's opening feat while Lee Westwood is posted with (+2800) odds. Former professional golfer Greg Norman founded the LIV series as it has been formulated by Saudi Arabia in an effort to be a solid challenge to the renowned PGA Tour.
Norman was noted for being a rival of the PGA Tour and has given the backing to LIV as he noted that it has provides another opportunity to the PGA.
Johnson is Inaugural LIV Favorite in London
South Carolina native Dustin Johnson became one of the 16 golfers announced into the LIV participation in London this weekend. Johnson left the PGA Tour on Tuesday as he was reportedly given more than $100 million to move over to the LIV.
He even lost his sponsor, RBC, who appeared to have dropped him immediately.
Mickelson was spotted a $200 million contract which is along the lines of joining the same idea as Johnson and playing in the major championship groupings on the LIVS circuit.
Please Note:
Several writers and golf analogists have listed the LIV to coincide with golfers who have already hit their peaks as key contestants in the sport. It will include fields of around 40 golfers who will coincidentally play for higher purses than what is on the PGA Tour.
Johnson is noted for posting well more than $100 million to cast himself in the LIV.
The action won't wait.

Level up. Stream now 👉https://t.co/9hX4ytVZZa#LIVGolf

— LIV Golf (@LIVGolfInv) June 9, 2022