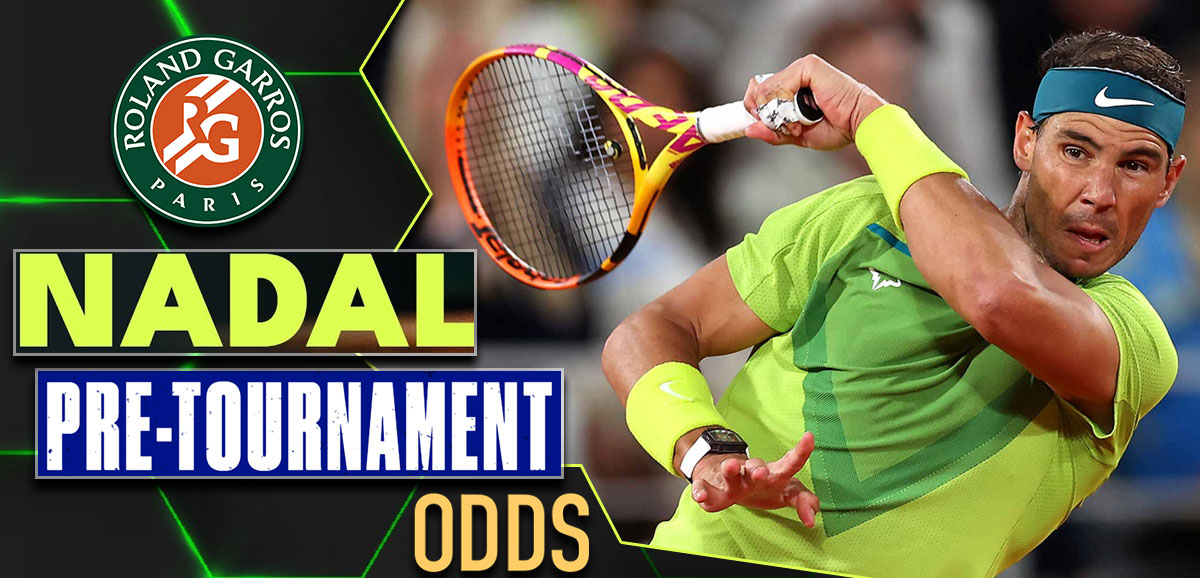 Rafael Nadal defeated Casper Ruud on Sunday to win the 2022 French Open men's singles title.
The win was Nadal's 14th win at Roland Garros and 22nd grand slam singles title, extending both records.
Nadal entered the tournament with +400 odds to win, his longest during a year where he won the French Open men's singles title.
Rafael Nadal dominated Casper Ruud 6-3, 6-3, 6-0 on Sunday to win the 2022 French Open men's singles title.
The victory made Nadal the oldest winner at Roland Garros at 36 years old. It also extended his record with 14 French Open wins and 22 total grand slam singles titles. Nadal also improved his impeccable record in Paris to 112-3 but perhaps one of the most impressive numbers for Nadal will be +400.
Those are the odds that the best tennis betting sites gave Nadal entering the tournament. Novak Djokovic opened the tournament as the +160 betting favorite while the streaking Carlos Alcaraz was second with his +175 odds. Nadal was just third behind Djokovic and Alcaraz. But once again, Rafa proved that he is still the clay god.
No. 14 for Rafa
French Open title No. 14 for Rafael Nadal 🏆

That's the most by any male or female at a single major all-time! pic.twitter.com/I2fEu0jro3

— SportsCenter (@SportsCenter) June 5, 2022
Sunday's win was the 14th at Roland Garros for Nadal and he is 14-0 when playing in the French Open final. He has won 10 since 2020 while no other player in the Open era has won more than six. In fact, the next three multiple winners on the list – Bjon Borg (6), Mats Wilander (3), Ivan Lendl (3), and Gustavo Kuerten (3) have a total of 15 or just one more than the Spaniard.
14 titles at Roland Garros is also the most by any tennis player – male or female at any one single grand slam event. Margaret Court won the Australian Open 11 times while Novak Djokovic has taken 9 titles in Melbourne. Martina Navratilova also triumphed 9 times at Wimbledon. Federer meanwhile, has won a total of 8 championships at the All-England Club.
Molla Mallory won a record 8 titles at the U.S. Open. The women's record at the French Open is 7 wins by Chris Evert. Evert and Serena Williams also won six U.S. Open titles each while Pete Sampras, Jimmy Connors, and Federer share the men's Open era record with five U.S. Open wins each.
Nadal's Longest Pre-Tournament Odds in a French Open Win
Rafael Nadal's pre-tournament odds to win the French Open in the 14 years he's gone onto win

2022: +400
2020: +125
2019: -110
2018: -255
2017: -107
2014: +130
2013: -150
2012: -150
2011: -110
2010: -250
2008: -200
2007: -163
2006: -125
2005: +200

— SportsOddsHistory.com (@SOHistory) June 5, 2022
What makes Roland Garros win no. 14 even more majestic is that Nadal did so with his longest pre-tournament odds in his championship years. Rafa was unsure about coming to Paris this year as he is unsure about what the future holds for him. Before the final, he went on to say he would trade this year's title for a "new left foot". It turns out he needed an injection to numb his left foot to beat Ruud in the final.
Before this year, Nadal's worst pre-tournament odds during a year he won the French Open was +200, and that came when he won his first title at Roland Garros in 2005. That year, a 4th seeded Nadal upset top-seeded Roger Federer in the semifinals and went on to defeat Mariano Puerta to win his first-ever Grand Slam title.
In 2014, Nadal-ranked no. 1 in the world and the top seed in the tournament, defeated no. 2 Novak Djokovic in the final. Nadal entered that tournament with +130 odds. Then in 2020, a 34-year-old Nadal defeated Djokovic in the final and became the first player to win a French Open title without dropping a set. Rafa headed to Paris that year with +125 odds to win the tournament, the only other time where he won with the plus money sign written next to his name before the tournament.