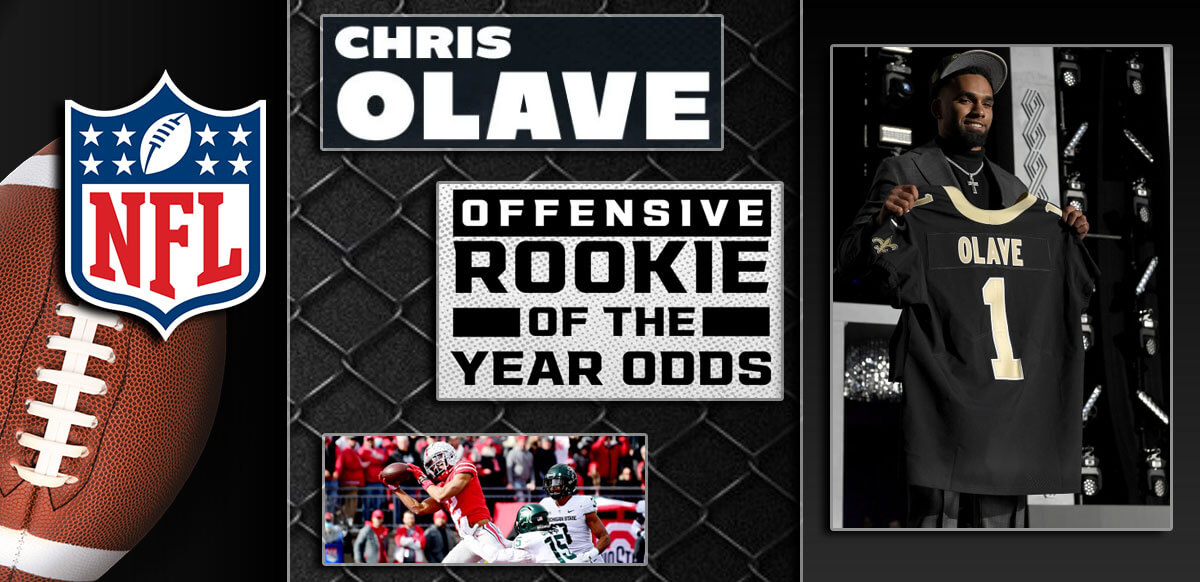 Saints' WR Chris Olave has opened as the +700 odds-on-favorite to be the 2022 NFL Offensive Rookie of the Year at BetOnline.ag.
QB Kenny Pickett of the Steelers is a close second with his +750 odds.
Also listed at +750 is Atlanta's Drake London who was the first wide receiver picked in the Draft at no.8.
New Orleans Saints wide receiver Chris Olave is the odds-on-favorite to win the 2022 NFL Offensive Rookie of the Year award.
The former Ohio State pass-catcher has the shortest odds to win the OROY award at +700 via the online sportsbook BetOnline. Pittsburgh Steelers QB Kenny Pickett and Atlanta Falcons wide receiver Drake London are next with their +750 odds while New York Jets running back Breece Hall and Tennessee Titan wideout Treylon Burks are both priced at +800.
Saints Draft Olave at No. 11
Saints draft Ohio State WR Chris Olave No. 11 overall

Olave & Thomas gonna be a scary duo 👀 pic.twitter.com/7FpYlbGEMr

— Bleacher Report (@BleacherReport) April 29, 2022
The Saints traded up in the Draft, from no. 16 to no. 11 in order to pick Olave. With New Orleans President and General Manager Mickey Loomis quoting the saying "You find somebody you love and you go get him" in drafting Olave, there's no question Olave was a guy they coveted in the draft.
New Orleans ranked 32nd in the NFL in passing offense last season because Michael Thomas missed the entire season and Jameis Winston tore his ACL in Week 8. But with the two expected to be back and healthy this season, Olave should be the perfect compliment to Thomas and another potent weapon for Winston.
Olave finished his Ohio State career with 176 catches for 2,711 receiving yards with 36 touchdowns. As a senior last season, Olave finished with 65 catches for 936 receiving yards with 13 touchdowns. He caught 33 total touchdowns in his final 32 college football games played.
Pickett Stays in Pittsburgh
The Steelers get their QB‼️

Kenny Pickett stays in Pittsburgh! #NFLDraft pic.twitter.com/Zah08UGadF

— SportsCenter (@SportsCenter) April 29, 2022
Meanwhile, the Steelers got their QB in Kenny Pickett who will be staying in Pittsburgh after playing his collegiate career for the Pittsburgh Panthers. Pickett was the only QB selected in the first round of the draft and in an award that has been dominated by QBs, Pickett makes sense. However, he will be playing behind Mitchell Trubisky and Mason Rudolph in the rotation and may not have enough games to show his wares.
Also listed with the same odds as Pickett is Drake London who was the first wide receiver selected in the 2022 NFL Draft at no. 8 by the Atlanta Falcons. With Atlanta having a shallow wide receiver rotation, he should get his targets with new QB Marcus Mariota who spent most of last season as a gadget QB in Las Vegas.
Breece Hall will get his touches as he joins a New York Jets running back committee that includes the talented Michael Carter. Meanwhile, Treylon Burks is in a good spot in Tennessee with AJ Brown now in Philadelphia. He should be the second target behind Michael Woods.
Below is the complete BetOnline odds board:
New Saints WR Chris Olave leads BetOnline's odds for 2022 Offensive Rookie of the Year 👀 pic.twitter.com/WAnTDTmDxm

— Locked On Podcasts (@LockedOnNetwork) May 3, 2022