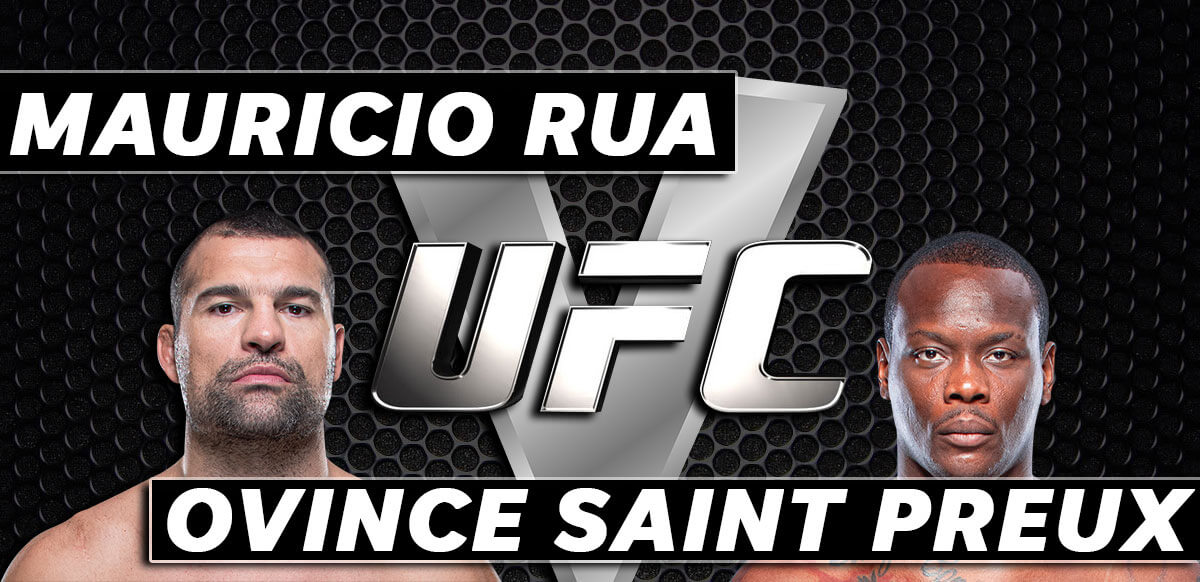 Ovince Saint Preux opens as the -160 betting favorite against Mauricio Rua (+140).
Saint Preux knocked out Rua in 34 seconds almost eight years ago at UFC Fight Night 56.
The Saint Preux vs Rua rematch will take place at UFC 274 on May 7th at the Footprint Center in Phoenix.
Ovince Saint Preux has opened as the betting favorite in his rematch against Mauricio Rua.
The two UFC veterans have been booked to fight at UFC 274 which is scheduled to take place on May 7th at the Footprint Center in Phoenix, Arizona.
According to the best UFC betting sites, Saint Preux is the -160 favorite and Rua the +140 bottom dog:
UFC:
Mauricio Rua (+140)
Ovince St. Preux (-160)https://t.co/7AIbaiQceh @ShogunRua @003_OSP

— BestFightOdds (@BestFightOdds) April 23, 2022
Almost eight years ago, Saint Preux stunned Shogun with a 34-second knockout at UFC Fight Night 56 in Brazil. The loss culminated in the roughest stretch of Shogun's UFC career where he lost four of five bouts. Meanwhile, that win was the highlight of a 7-2 UFC start for Saint Preux who ended up fighting Jo Jones for the interim UFC light heavyweight title at UFC 197.
A lot has changed since then.
Paul Craig Taps Out Shogun Rua Due to Strikes
Paul Craig taps out Shogun Rua due to strikes! ?@PCraigmma doing Scotland proud! ???????#UFC255 pic.twitter.com/5q3wRVIGXJ

— UFC on BT Sport (@btsportufc) November 22, 2020
Shogun saw a three-bout unbeaten streak end at UFC 255 last November 20, 2020, when Paul Craig tapped him out due to strikes in round two. Despite that loss, the 40-year-old MMA legend is a solid 5-2-1 since losing to Saint Preux in their first bout.
A former UFC light heavyweight champion, Shogun Rua became a household name in Japan during the early 2000s while fighting for PRIDE where he won the 2005 PRIDE Middleweight Grand Prix. He joined the UFC in 2007 and after losing to Lyoto Machida for the 205-pound belt at UFC 104, he won the title in a rematch seven months later. Rua has a record of 27-12 with 21 knockouts and one submission win.
Shogun opened at -140 and closed at -160 during the first bout with Saint Preux but as we said earlier, a lot has changed since that bout. Rua was the betting underdog in four out of his previous six bouts, including as a +175 in his most recent bout against Craig. He was also the +130 bottom dog during his KO loss to Anthony Smith at the main event of UFC Fight Night 134 in 2018.
Tanner Boser Stop Ovince Saint Preux
UFC Vegas 30 results: Tanner Boser shuts out, stops listless Ovince Saint Preux (@MMAFightingSM)( https://t.co/Lfo2h6oolD pic.twitter.com/HKGYetev4i

— MMAFighting.com (@MMAFighting) June 26, 2021
Like Shogun, Ovince Saint Preux heads to this matchup coming off a defeat. In fact, Saint Preux is just 3-6 in his last nine bouts and has dropped his last two, both via knockout. In his most recent fight, OSP looked listless during a second-round stoppage loss to Tanner Boser in a heavyweight bout. Saint Preux has lost his two UFC bouts at heavyweight.
The 39-year-old Saint Preux is also a longtime veteran, having competed in the sport since 2008. OSP has fought under promotions like Strikeforce, XFC, and Shark Fights. He joined the UFC armed with an impressive 12-5 record. However, he's put up a mediocre 11-11 UFC mark. Overall, Saint Preux has a record of 25-16 with 12 knockouts and 8 submission victories. Four of his submission wins have been via the rare Von Flue choke.
This marks the 9th time in his last 10 bouts where Saint Preux has opened as the betting underdog inside the UFC Octagon. The only time he has been a betting favorite during this stretch was when he made his heavyweight debut against Ben Rothwell in May 2020. OSP lost that bout via split decision.